Climate Data for Nova Scotia
Information about our past and future climate are essential to prepare for – and adapt to – climate change. There are a number of ways to develop future climate scenarios, but it is important to remember that these results are scenarios of possible future climate not predictions.
This section is intended to show the story of climate change across Nova Scotia. Here you'll find:
Information on maximum temperatures, minimum temperatures, precipitation, extreme precipitation and growing season length, broken up into different regions of Nova Scotia.
Each region has historical data for a 30 year baseline period (1961 – 90 is used here) and future projections out to the end of the century (2100). Future projections are based on 30 year time periods: 2020s (2011 – 2040), 2050s (2041 – 2070) and 2080s (2071 – 2100).
This information was generated by the Meteorological Service of Canada at Environment Canada and uses a statistical downscaling method based on the Canadian Global Climate Model (CGCM1).
Climate Data Map
Nova Scotia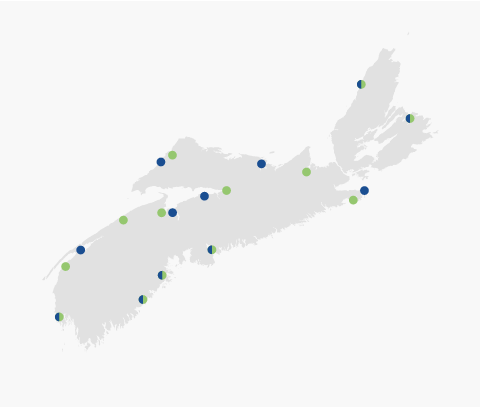 Climate stations
CHS Representative Site (Sea-level Rise)
Maximum temperature is the highest temperature recorded in a 24-hour period ending in the morning of the next day. Value is the mean of monthly max temps for season and annual.
The minimum values are for a period of the same length, beginning in the evening of the previous day. Mean temperature is the average of the two. Value is the mean of monthly min temps for season and annual.
| Season | Historical 1980s | Projected 2020s | Projected 2050s | Projected 2080s |
| --- | --- | --- | --- | --- |
| Winter | -4.1°C | -2.9°C | -1.5°C | -0.2°C |
| Spring | 4.2°C | 5.1°C | 6.2°C | 7.4°C |
| Summer | 16.9°C | 17.9°C | 19°C | 20.1°C |
| Autumn | 8.8°C | 9.8°C | 11°C | 12.2°C |
| Annual | 6.4°C | 7.5°C | 8.7°C | 9.9°C |